Methods and tools
The approaches described here are design research adaptations of qualitative research approaches (e.g. semi structured interviews, self documentation), that are supported by design oriented activities (drawing and visual representation tasks, ideation workshops) and complemented with the construction of visual representations and materials that analyze, present and communicate the results to stakeholders involved.
Objectives
to formulate design oriented tools for mapping practices that are related to the design space under consideration, instead of looking at a product or service in isolation
to discover and analyze these practices collaboratively with users
to identify opportunities to develop co-design strategies for products and services; where different stakeholders can contribute to the development of a product through different means and throughout the whole lifecycle
Mapping practices with digital ecosystem maps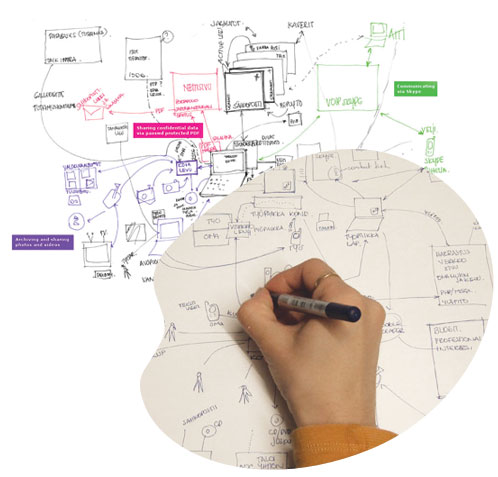 Participants are invited to individual sessions (usually lasting ca. 30-45 min), where they reflect on a set of every day practices and their related artefacts, places and social networks. The sessions are constructed around collaborative drawing of a mental map, which serves both as an artefact for reflection and analysis as well as a documentation strategy. In a Living Lab context this is an efficient contextual approach, with few participants, that can generates rich and holistic materials (practice maps, scenarios and anecdotes, user portraits, development themes) in a relatively short time. This approach can act as a shortcut and validation point for materials gathered from larger groups as it includes interesting levels of details.
Elements
Selection of participants: developing the criteria for selecting and identifying participants is more relevant than the amount of people involved
Preparation for the mapping sessions (background of the participants and the focus of the sessions)
Mapping sessions (usually done in pairs)
Analysis and documentation
Debriefing (preferably as part of a workshop done collaboratively with all participants)
Final analysis and reporting
Used in
Saunalahti case 2007 (digital files ecosystem map)
Destia case 2007 (Everydaylife mobility practices map)
Ideation and design workshop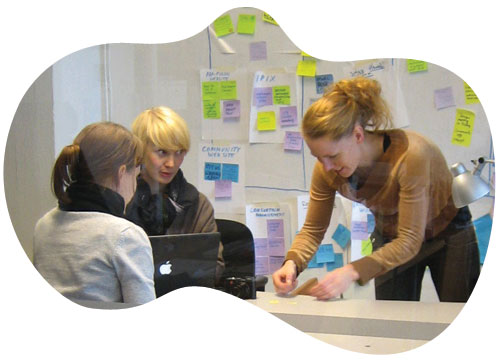 A workshop brings people together to work and produce material on a specific topic, usually through hands on activities. It can also be organized as a way to achieve consensus and shared view on a trial or idea, formalize decisions and move forward. Compared to a focus group situation a workshop draws from contextual material gathered by other approaches (e.g. mapping practices or self documentation), and presents tasks in-situ. In general a workshop expects more interaction between participants as diverse activities, designed to help participants contribute, are introduced. Workshops are key articulating events for Living Lab activities because they channel and focus the activities of a case.
Elements
Selection of participants: the criteria for selecting and identifying participants is crucial depending on the stage of the process realized
Preparation of pre-tasks
Workshop
Analysis and documentation
Final analysis and reporting
Used in
Saunalahti case 2007
Online (collaborative) self documentation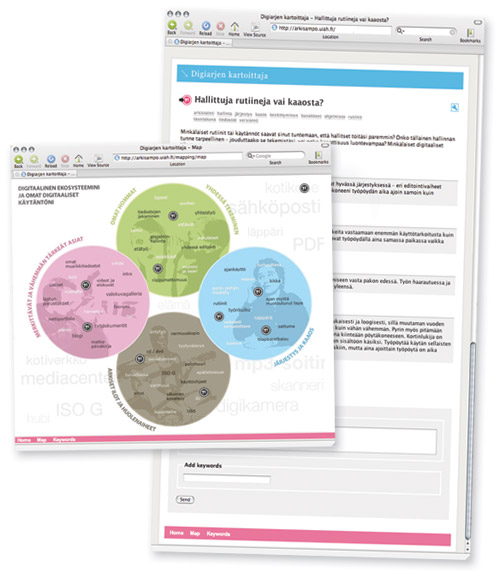 This approach builds on the more traditional diary-writing and self-documentation activities, but takes them a step further to include collaboration and discussion possibilities between participants. It is possible to make use of existing tools or probes (mobile camera-phones, digital cameras, photo-sharing and micro-publishing services) to ask people to document an existing practice or to experiment with a new one as they go though their every day life. The process is complemented with the use of a collaborative web environment (e.g wikis, blogs, aggregators, etc.) which enables the shared and collaborative commenting of the material gathered by each participant. This opens up the documentation and experimentation process for all participants, encouraging them to reflect on the practices documented and contribute further with new ideas and anecdotes.
Elements
Participants: it is worth noting that choosing participants who already belong to a certain community, or who know each other can facilitate the process.
Preparation tasks, materials and software
Online collaborative self documentation
Analysis and documentation
Debriefing (preferably as part of a workshop done collaboratively with all participants)
Final analysis and reporting
Used in
Saunalahti case 2007 (the digital everyday mapper platform was used)
Practitioner portraits and summary cards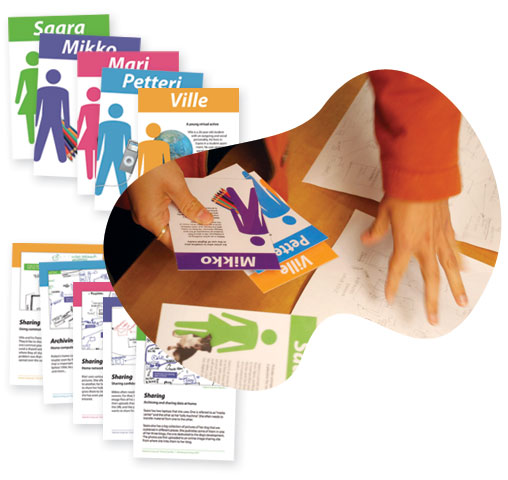 Practitioner portraits are an analysis and presentation format that builds realistic and evocative portraits of people (potential or actual users) grounded in the personalities, realities and anecdotes of the actual participants of a qualitative study. The portrait texts are coupled with highlighted elements of the mental maps gathered through a mapping session. A summary of the main findings is condensed in small handy cards that can be shared and used in design workshops, brainstorming sessions, heuristical evaluations, etc. This can be a particularly powerful way to introduce research and study results as well as design ideas to different parts of an organization. In the context of Living Lab projects it is beneficial to have highly portable and reusable materials that can be shared with stakeholders in and outside of a specific project. The portraits and cards are easily comparable and archivable cumulative materials, constituting a growing knowledge pool.
Elements
Gathering of materials (through other methods like interviews, mapping sessions, participant observations, etc.)
Analysis, grounding and classification
Writing and visualizing the portraits
Creating summary cards
Debriefing (preferably as part of a workshop done collaboratively with all participants)
Final reporting
Used in
Saunalahti case 2007