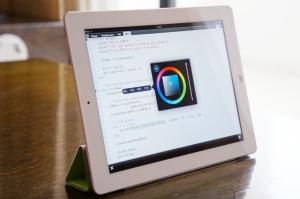 Codify, an app that brings touch-based programming to the iPad – http://twolivesleft.com/Codify/:
"Codify for iPad lets you create games and simulations — or just about any visual idea you have. Turn your thoughts into interactive creations that make use of iPad features like Multi-Touch and the accelerometer. (…) Codify is built on the Lua programming language. A simple, elegant language that doesn't rely too much on symbols — a perfect match for iPad."
Limited, certainly, but might be useful for quick prototyping or teaching (via MacRumors).