A.: Wanted to use a MIDI keyboard as the output device hooked up to a bicycle, with a variation in sounds depending on cycing style used. The plan was to trigger events using hall effect sensors detecting magnets connected to pedals and wheels hence rotating past the sensor at speeds specified by the cycler.
Went to the recycling sensor to find a MIDI keyboard. Couldnt find one but found an old exercise bike bought for €5.
The plan now is to get output from cycling action on the exercise bike to manipulate images and sound.
B.: Fitting bike with sensors and creating first schematic using MAX/MSP. We used neodymium magnets, salvaged from broken hard-drives and mounted them on the rim of the rear wheel.  As the wheel rotated, the magnets passed through the magnet sensor and output a digital signal via a micro-controller.
The incoming sensor data was sent to Max/MSP and enabled us to determine the number of rotations per second, i.e., the number of times the magnet passed through the hall sensor. From this data, we were able to calculate speed and distance.  We also used the rotational sensor data to control the playback rate of the film sequence as well as the audio playback rate. As the cycler pedaled faster, the playback speed increased . The result was a "Cycling DJ"  allowing interaction with both the visual and audio environments.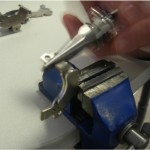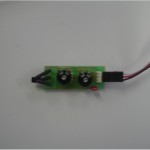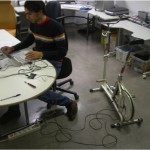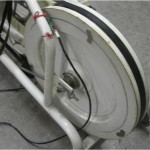 C.: Recorded cycling journey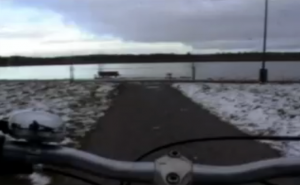 D.: Callibration of cycling movement and video action.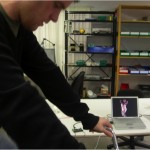 Max/MSP code. More info email: simon@therealsimon.com