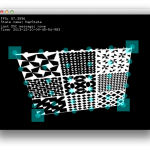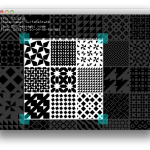 There different kinds of projection mapping applications on many platforms and the most powerful that I've used so far is the MadMapper on the Mac OS X operating system. You won't need anything else for projection mapping for the most part of possible projection mapping scenarios, but the trouble begins when you have a limited budget for your project and there is a need for multiple screens.
This is where the Pi Mapper comes in. It is a projection mapping solution for the Raspberry Pi. Raspberry Pi is a very cheap and small computer that is built around a processor that is being used in smartphones like the iPhone. It has a powerful graphics processing unit that is able to play Full HD videos smoothly.
The Pi Mapper solution consists of an openFrameworks application that runs on the Raspberry Pi. The Raspberry Pi itself runs Debian Linux. There is a web server on the Raspberry Pi that hosts the control panel web interface. You can connect to the Raspberry Pi from any web-browser on almost any platform.